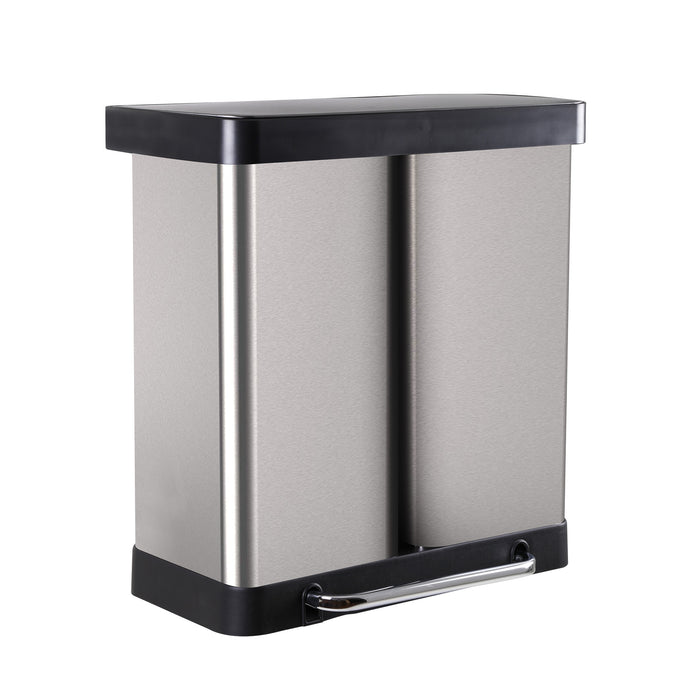 Fingerprint-Proof Brushed Stainless Steel Trash Can
Sale
Sale
Original price
$199.99
-
Original price
$199.99
Processing Time : 3-5 day delivery for instock items
Description:

Strong&Fashionable Appearance: Our kitchen trash can is made of high quality stainless steel with a stainless steel wire drawing surface. The oval body with a sloping lid makes the garbage can look even more cool and beautiful. Buying our stainless steel trash can is a great deal for you.

Mute Design: Conventional Garbage can in use will make a lot of noise, how our kitchen trash can use slow down technology, open and close will not make a lot of noise, you can rest assured that you can use, do not worry about disturbing the rest of the family. So putting stainless steel trash can in the corner of your bedroom will make a good choice.

10 gallon capacity double barrel design: 10 gallons can meet your daily use. The double-barrel design can help you sort household waste. On the kitchen table next to the kitchen trash can, you will dispose of kitchen trash more conveniently. The ordinary 5 gallon garbage bags in the supermarket can be used in our stainless steel garbage cans or larger garbage bags. The lid of the trash can is removable, allowing you to easily put in and take out the trash bag.

Easy To Clean&Isolated Smell: Our kitchen trash can is treated with stainless steel wire drawing, which makes it very convenient to clean up the stainless steel trash can. The dirt on the surface of the garbage can be easily removed with only a rag. If you don't want the whole house to smell like you don't like, you need to make sure that the lid of the bathroom trash can is always closed, and good sealing makes this possible.

Suitable For Various Places: Our stainless steel trash can be used in all places where we can use it. It's big, beautiful and the price is right. Why not to buy one ? The kitchen, the bedroom, the living room, the study, the activity room, even in your kid's cabin, I think it's all right to put one of our kitchen trash can .Quality assurance, if garbage can have any quality problems, you can contact us the first time, we will give you a satisfactory answer.

Product Summary:
Material: Stainless steel 
 Care: Wipe with a cloth
 
Dimensions:
Total Size:23"D x 12"W x 24.4"H